Commemorating
Gridiron Heroes
BC Commemorative Posters/T-Shirts
01
OBJECTIVE
Marketing History
To find great success in collegiate athletics, you've got to have a multi-faceted strategy.
It's always a good idea to find special opportunities to celebrate the history of your program.
Who doesn't want to strengthen relationships with athletic alums, generate increased excitement around the program, and create a promotional opportunity for a can't-miss event? The struggle can be identifying the optimal time to put on such an event and ensuring that the honorees are worthy of their own special day.
At Boston College, though, there is no shortage of historic former student-athletes to build an incredible event around. In fact, Jason Blanchette and the BC Sports Marketing Department developed TWO separate jersey retirements for NFL superstars, Luke Kuechly and Matt Ryan.
Our task was to create two items for both events: a commemorative poster for the general public and a commemorative shirt for VIPs. There was obviously going to be a huge buzz around both events, but we wanted to design some equally buzzworthy promotional items.
Team
Boston College
Department
Marketing
Service
02
STRATEGY
Illustrating an Alter Ego
Our discovery process centered around each player's alter ego.
Matt Ryan arrived on the scene and was almost immediately better known as "Matty Ice," but Kuechly needed to establish himself a bit in the NFL to garner nationwide notoriety. Thankfully, one of our print designers, Daniel Hilsin, a Carolina Panthers superfan, was up to the task of creating Kuechly's collateral based on his image as the "Clark Kent of Football."
We developed a number of different initial concepts for Boston College and worked in unison with their External Department to narrow in on a design that was both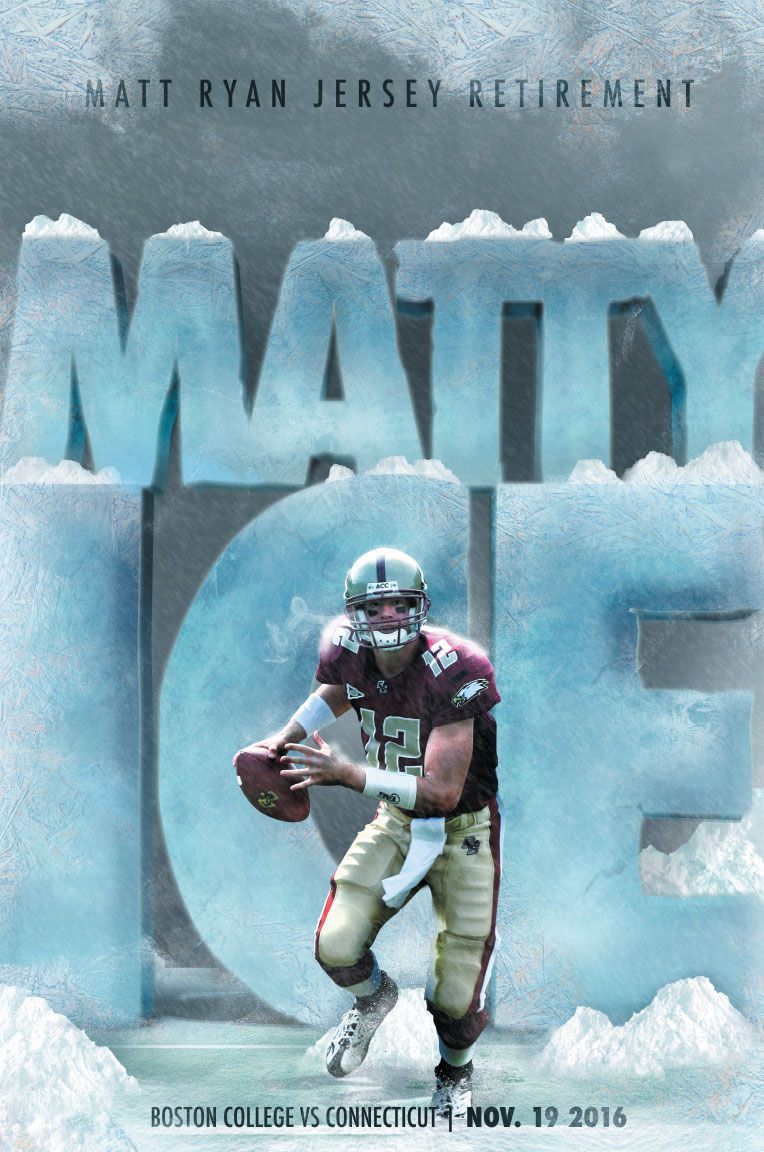 03
RESULTS
Stand-Alone or Supplement
Our goal was to develop pieces that simultaneously work well independently, but also complement each other.
For the Kuechly items specifically, the shirt was a direct representation of the mild-mannered Kuechly tearing open his dress shirt to reveal his #40 Boston College jersey, while the Poster was the front page of the Daily Planet highlighting his numerous accomplishments. Whether attendees were able to get one or both of the commemorative items, we wanted each element to tell a story and invoke the memories of each man's time on campus.
Both events were huge hits amongst fans, donors and alums and everyone had a souvenir from their special day in Chestnut Hill!